Print book
2.3 Chemical Properties and Reactions
| | |
| --- | --- |
| Site: | KET Adult Education |
| Course: | Sample FF Lessons |
| Book: | 2.3 Chemical Properties and Reactions |
| | |
| --- | --- |
| Printed by: | Guest user |
| Date: | Sunday, September 25, 2022, 4:44 AM |
2.3 Chemical Properties and Reactions
Lesson Introduction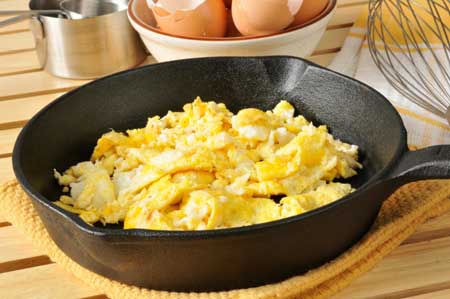 When you scramble an egg or try to get rid of the rust spots on your car, you are using the principles of chemistry. Chemistry is the study of the composition and properties of matter. Matter takes up space and has mass. Matter can exist as a solid, a liquid, or a gas. Iron, orange juice, and air are all matter. They take up space and have mass.
All matter has physical properties that our senses can detect. These include:
Mass is the amount of matter a substance has. Anything that has mass can be weighed. Weight is a measure of the pull of gravity on an object. An object's weight depends on where you weigh it. For example, say you have a barbell that weighs 100 pounds on Earth. If you took that barbell to the moon, it would weigh only 17 pounds. That's because the pull of gravity on the moon is weaker than the pull of gravity on Earth.
Another important physical property of matter is density. Density is the amount of mass in a specific volume of matter. The more mass per unit of volume, the denser an object is. For example, one cubic foot of solid steel is denser than one cubic foot of plastic foam. The steel has more mass, even though it occupies the same amount of space as the plastic foam.
This lesson introduces some of the basic ideas in chemistry, beginning with the properties and states of matter.
An element is a substance in which all the atoms are the same kind. This is the diagram of an atom of one element—carbon. Carbon is an element that makes up part of carbon dioxide gas in the atmosphere. It is the main substance in coal, graphite, and diamonds. It is also found in all living things.
You are probably familiar with other elements. They include metals like gold, copper, and silver. They include nonmetals like silicon, arsenic, and iodine. They include oxygen, nitrogen, helium, and neon, which are gases, and bromine and mercury, which are liquids at temperatures generally found on Earth.
In ancient times, scientists thought there were only four elements: earth, water, fire, and air. Today 114 elements are recognized internationally, and more will be added. Of these, only 98 occur naturally on Earth; the remaining elements have been made in laboratories.
Each element has its own name, chemical symbol, and atomic number. The chemical symbol is an abbreviation that consists of one or more letters. The first letter is always capitalized. For example, C is the chemical symbol for carbon. Ne is the chemical symbol for neon.
Another type of substance is called a compound. Compounds form when two or more elements chemically combine in a different proportion. For example, water is a compound consisting of the elements hydrogen and oxygen. The proportion of hydrogen to oxygen in water is always 2:1. One molecule, or unit, of the compound water can be represented by the chemical formula H20. This means that one molecule of water consists of 2 hydrogen atoms and 1 oxygen atom.
The properties of a compound differ from the properties of elements of which it is made. For example, water, a liquid compound (at room temperature), is made of the elements of hydrogen and oxygen, which are gases at room temperature.
A third type of substance is called a mixture. Mixtures are combinations of two or more substances that keep their original properties. The substances that form mixtures do not combine chemically. Instead, they mix physically. Soil, salad dressing, and perfumed air are all mixtures. The substances in a mixture can combine in any proportion.
A special type of mixture is called a solution. In a solution, very tiny particles of two or more substances mix evenly. An example of a liquid solution is salt water. In salt water, the compound salt is the solute, the substance that dissolves. Not all solutions are liquid. Solutions can be solid or gaseous, too. For example, steel is a solid solution of carbon in iron. Air is a gaseous solution of nitrogen, oxygen, and other trace elements.
The ingredients of a solution, like those of any mixture, can be separated out. For example, if you heat salt water, the water will evaporate, leaving the salt behind. This is the principle behind extracting salt from seawater. Seawater sits in shallow ponds and evaporates in the heat of the sun. Blocks of sea salt are left behind.
States of Matter
The states of matter are the different forms substances can take—solid, liquid, or gas. Whether a substance is a solid, liquid, or gas depends on how close together its atoms or molecules are and how fast they move.
Solids have a definite size and a definite shape. The atoms in a solid are very tightly packed and hardly move. Often they form regular patterns, like crystals. Wood, stone, and plastic are all examples of solids.
Liquids have a definite volume but no definite shape. This means that if you have a cup of lemonade, it is a cup of liquid whether it's in a gallon carton, in a glass, or in a puddle on the floor. Liquids can change shape because their atoms are farther apart than those of a solid. They can move more easily.
Gases have no definite shape and no definite volume. The atoms in a gas are very far apart. They are always in motion. A gas will spread out if there's a lot of space and compress if there is little space. For example, oxygen is spread out through the air, but it is compressed in an oxygen tank.
Changes of State
Most substances can exist in either solid, liquid, or gas form, depending on temperature. At low temperatures, substances are solid. If the solid is heated, its atoms gain energy and begin to move more quickly, and it melts and forms a liquid. For example, when you add heat to a solid like ice, the ice melts, becoming water.
If the liquid is further heated until it boils, the atoms absorb even more energy. They move faster, and the liquid forms a gas. At very high temperatures, the electrons of an atom can separate from its nucleus, forming a fourth state of matter, plasma. The sun and other stars are made of plasma.
Matter can also change from one state to another through removal of heat energy. When you take heat out of a substance, its atoms lose energy and their motion slows. For example, when you place water in a freezer, it loses energy and freezes.
This table summarizes the changes of state of matter.


A glass artist talks about manipulating glass from a solid to a liquid and back.
Chemical Reactions
When one or more elements and compounds are changed into another set of elements or compounds, a chemical reaction has taken place. In a chemical reaction, the substances you start with are called the reactants. The substances into which they change are called the products. Reactants and products can be either elements or compounds. The bonds between the reactants are broken and reformed during a chemical reaction. Common chemical reactions include oxidation (burning and rusting), in which a substance combines with oxygen, and digestion, in which foods are broken down by stomach acids into nutrients the body can use.
A second key characteristic of chemical reactions is that matter is neither created nor destroyed. It simply changes from one form to another. Therefore, the total mass of the reactants equals the total mass of the products. If you found the mass of the reactants before the reaction and the mass of the products after the reaction, the masses would be the same. This principle is called the Law of Conservation of Matter.
Before a chemical reaction can occur, there must be enough energy to allow the reactants to change. The energy needed to get a chemical reaction started is called the activation energy. When you burn a piece of paper, for example, you apply enough heat to get the burning started. Once it has started, the paper will burn on its own.
In some chemical reactions, energy is released in the form of heat or light when the reactants change. These reactions are called exothermic reactions. Burning is an example of an exothermic reaction; the explosion of fireworks is a dramatic example of this type of reaction. 
In other chemical reactions, energy is absorbed when the reactants change. These reactions are called endothermic reactions. For example, when you bake a cake, the liquid batter absorbs heat energy and a solid cake is the product.
This table summarizes exothermic and endothermic reactions.
Draw a Conclusion
When you analyze information, you break it down into parts. You then examine the relationships among the parts to draw a conclusion. 
For example, suppose you woke up one winter morning and heard on the radio that schools would be closed that day. You would consider the season, the hour, the source of your information, and the fact that schools will be closed. From these facts, you might conclude that there was significant snowfall during the night. 
Some science questions will ask you to draw conclusions based on evidence. Some will ask you to compare and contrast two items. Some will ask you to determine cause and effect. All of these thinking skills involve analysis.
Thinking Strategy
In this case, you are being asked a cause-effect question. The question gave you the effect: Teflon's ability to repel grease and food. It asked you for the cause. What characteristic of Teflon causes it to repel matter? To find the answer, you need to reread the passage carefully, looking for the answer to the question.
Strategy Suggestions
When you are asked to draw a conclusion, your first step is to analyze the question or break down information into parts and examine the relationships among those parts. You may have to draw a logical conclusion based on the evidence in the passage or graphic. You may have to determine the cause or effect of an event. Or you may have to figure out how two items, processes, or ideas are alike or how they are different.
EXAMPLE
Teflon, a type of plastic, has been used to line frying pans for years. Its slippery surface repels grease and food so they don't stick to the pan. Recently, chemists and textile designers teamed up to use Teflon on fabrics. Coating fibers with Teflon protects fabrics from greasy stains.You can spill food on a Teflon-treated tie or shirt and not have to have it dry cleaned. 
What causes Teflon to repel grease and food?
A. It acts like a detergent to remove grease and food from pans and fabrics.
B. It has a slippery surface so grease and food don't stick to it.
The correct answer B. It has a slippery surface so grease and food don't stick to it. According to the passage, the slippery surface of Teflon causes grease and food to be repelled.
.
Thinking Strategy
First find the row that gives information about the composition of steel. Then compare the two types of steel to see how they are alike.
In terms of their composition, what do low-alloy and high-alloy steels have in common?
A. Both contain chromium.
B. Both contain iron and carbon.
C. Both contain more than 5 percent of metals other than iron.
D. Both contain less than 5 percent of metals other than iron.
The correct answer is B. Both contain iron and carbon. According to the chart, both low-alloy steel and high-alloy steel contain iron and carbon.